Now, what can we learn from tonight's event? Try harder to pop the winners, probably. And, quite frankly, I have no idea who will win at the Oscars. They take place exactly two weeks from today. If you're ready to start over, but longer and stronger, so am I. OK? Good. Good evening.
And, unless Rebel Wilson has found more underwear to throw at professional actors, the Baftas are over. All that remains is to pile up all the rewards that have not been thrown.
The weird thing about this is that, unlike TV awards, all of the winners showed up for these. But if you count, Dune won several and we won another. Cherish Oteka's The Black Cop won Best British Short Film. If you didn't see it on the Guardian's website in January, you can (and should) watch it here.
THE POWER OF THE DOG WINS BEST FILM. It wasn't the awards-packer some predicted, but The Power of the Dog rallied strongly in the dying gasps of the night.
Obviously, Jane Campion isn't there, but some of the other cast and crew members are. Cumberbatch now stands in a crowd of people and, yes, he definitely has the color of a lifeguard. But the speech gets to run and run and run and run and run because no one showed up and Rebel Wilson had to throw away all her bras to fill the time.
JOANNA SCANLAN WINS BEST ACTRESS. Thank goodness for that. She entered the Baftas as a surprise nominee, but has now asserted herself as potentially the new Olivia Colman.
Despite the palpable annoyance of Lady Gaga, who flew all the way here for nothing, Scanlan absolutely owns the scene. She's upset, she's touched, she's aware of her own story, and she takes the time to put her film After Love into context. One of the speeches of the evening. A die only speech of the night, certainly, but one of the speeches of the night all the same.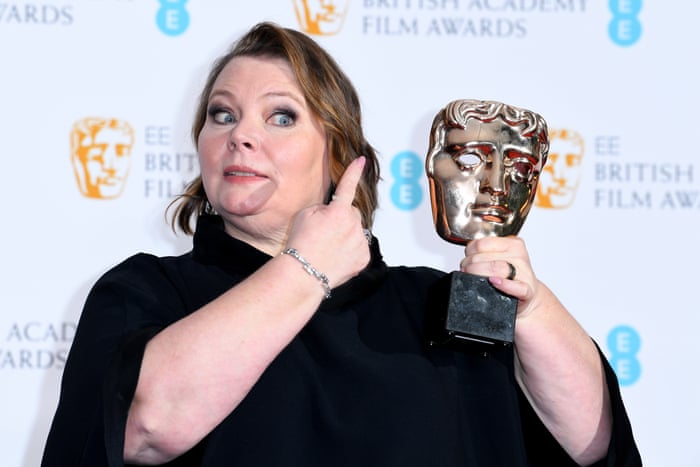 JANE CAMPION WINS BEST DIRECTOR. But she's not there, because no one is there. They could have held this ceremony in a van for everyone who showed up to pick up their awards. But at least Benedict Cumberbatch is there. He seems like the exact color of a bastard, but at least he showed up.
Andy Serkis, presenter best director, just made a joke of Priti Patel so tortured that it deserves to be dissected at length. There should be books written about it. It should be dug into the side of a church.
I may be reading too much into this, but Stephen Graham looks FURIOUS.
WILL SMITH WINS BEST LEADING ACTOR. This is perhaps the most obvious winner with the Oscars just two weeks away. But guess what? Will Smith is not here tonight. Never mind.
SUMMER OF SOUL WINS BEST DOCUMENTARY. Questlove agrees in person, and seems legitimately at a loss for words. Calling the film "a mission of love", he credits it with rekindling his dormant self-confidence. By God, it's a good documentary, by the way.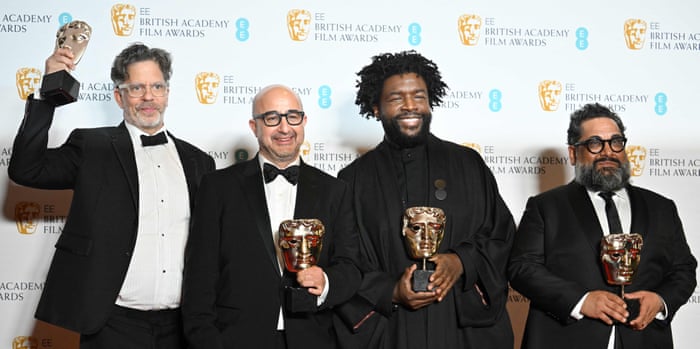 Please remember that this ceremony was edited for television and briefly wish that was not the case.
LICORICE PIZZA WINS BEST ORIGINAL SCENARIO. Not the biggest of champs this year by any stretch of the imagination, but Paul Thomas Anderson is undoubtedly a worthy winner. Too bad he's not here to accept it. But Jonny Greenwood and Alana Haim accept on his behalf, in spectacularly inept fashion.
And then into the ceremony that will be known as The Baftas Where Rebel Wilson Handed Out Some Of Her Bras: Best Original Screenplay.
And now a short film where Rebel Wilson teaches us to go to the cinema again. Dress! Go to the toilet! Remember that an intrinsic part of the cinematic experience is the artificially inflated price of snacks! Sit down next to Matt Lucas!
Now she walks around holding out her bras to the public. You didn't have that with Joanna Lumley, did you?
CODA WINS BEST ADAPTED SCENARIO. It's an incredible feat for Sian Heder, the woman who adapted the screenplay; something underlined by his jolt of sheer shock upon hearing his name called. His speech is translated by two signers (one in ASL and one in BSL), which is another wonderful moment. And that also gives Coda momentum. It quickly becomes one to beat.