When Joe Walker, a London-born, Los Angeles-based film editor, was six years old, he repaired the seams of his parents' home 8mm films if the projector bulb burned out the film. Fifty-two years later, Walker – who is nominated for a Bafta and an Oscar for editing Dunes – does much the same thing, but on a grander scale than these treasured family pictures.
After a degree in music composition at the University of York, Walker joined the BBC as a trainee sound editor in the late 1980s. I worked with Pam Bosworth, whose vintage was in which she had whistled The Bridge over the River Kwai. We worked on a documentary about [Ernest] Hemingway, then a drama, and I learned a lot.
His big break as a sound editor was the mini-series first born, on which he met future film composer Hans Zimmer, before moving into editing pictures with music documentaries, magazines and wine shows, as well as composing for children's television. But Walker was eager to return to drama, rising through the ranks as editor through "police procedurals Jonathan Creek and The lakes", before finally going to the cinema.
After cutting Rupert Wyatt The escapistWalker met artist-turned-filmmaker Steve McQueen through cinematographer Sean Bobbitt, and the pair hit it off. McQueen was looking for an editor for his first feature film Hungerabout IRA hunger striker Bobby Sands, and Walker connected with the filmmaker, talking about growing up in a Catholic family.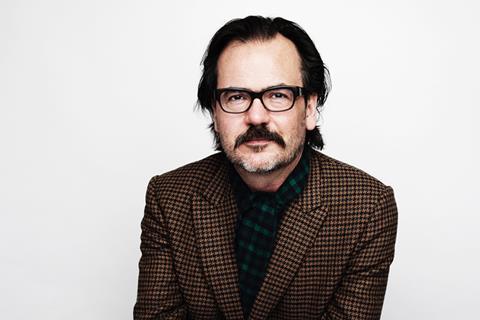 McQueen followed Hunger with Shame, which won Walker a European Film Award and "raised my profile". But after working on a documentary life in a day, he set his sights on Hollywood. "I wanted to take it up a notch in terms of the budget and the scope of the films I was editing," he says. "I was sent a bunch of scripts but they were all awful. I remember my agent saying, 'They don't understand you [in America]. They don't understand you at all. Then 12 years of slavery came, and they got me.
Walker's third collaboration with McQueen, 12 years of slavery marked his first Oscar nomination and opened "a great door to American cinema. Michael Mann was watching and he picked me. Techno-thriller editing Black hat for Mann was a revelation for someone more accustomed to British television and independent films. "Hunger it was me and Steve in a basement in Great Pulteney Street [Soho, London], living with a certain humidity. I assisted myself, we bought our own lunch and did it often. Working on a Michael Mann movie, there are three editors, nine music editors, four sound editors, and aisles of people working to get that movie off the ground.
dream partner
After the Oscars, Walker's rep asked which directors he'd most like to work with and he mentioned Denis Villeneuve, after admiring the 2010s Fires. "I can't remember being more moved by a film. I came out torn to pieces. It's something both Steve and Denis have, this ability to tell a story in resonant imagery as well as dialogue and performance. I wanted to work with this spirit. It so happened that Villeneuve was looking for a publisher to Sicarioand the couple began a collaboration that continued with Arrival, Blade Runner 2049 and Dunesfor which Walker received his third Oscar and fourth Bafta nomination.
Adapted from Frank Herbert's epic novel, Dunes — or, more precisely, Dune: part one – clocks in at 155 minutes, although Walker's initial assembly was shorter. "There is a faster version you can make of Dunes if you wanted to reduce the fruit on hand. One of the biggest challenges was establishing all the main factions and characters and being able to get a glimpse of their souls before they were thrown in the oven. Thus, the film took on length and, consequently, improved.
The extra running time allowed Walker and Villeneuve to flesh out the visions of Paul Atreides (Timothée Chalamet), who "basically weren't there in the first cut. That's another thing that emerged, trying to spice up images in the structure, so that Paul's inner life had a sense of destiny and progression.
Given the scale, complexity and visual effects involved in Blade Runner 2049 and Dunes, Walker's role begins before a frame has even been shot. "I like being near the set. I don't like being to together. At Sicario and ArrivalI wasn't on set, but the number of VFX shots was much lighter. blade runner was beginning to enter over 1,000 VFX shots, Dunes even more then. There are some things that need to be refined when in the pre-vis phase, because these cuts need to be a complete template for all the other units working on them. It is very important to be there early enough to have access to Denis before things get too crazy. I'm also always here to say, "We might need a chance for that."
With Dunes, Walker was in Hungary two weeks prior to filming. "It's not a lot but it's enough to watch the big scenes that were important to Denis," he says. "He wanted to have a cut of them before shooting them with the actors. And we could change them.
One of the most difficult was scene 52, where the Atreides land an ornithopter in the desert to save the workers of a spice harvester when a worm approaches. "It was scripted and then pre-visited, but there's no dialogue, which I do with temporary voices and put together to figure out what the scene will look like. We worked on it for weeks before they don't spin.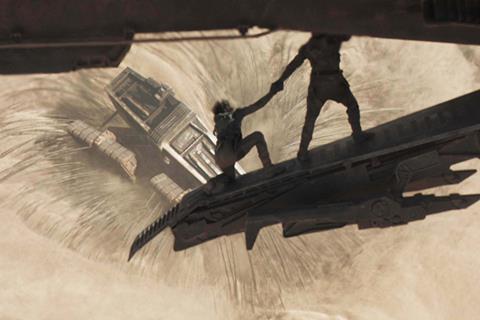 In the editing room, Villeneuve is omnipresent but never prescriptive. "Denis is normally four feet to my right, and we've spent the last seven years like that," Walker says. "But it's a real collaboration. He goes into filming with such a solid plan. He does a lot of storyboarding, and it's more than just a shopping list.
"None of us stay particularly in our hallways. It's very holistic," Walker continues. "My relationship to sound allows me to bring a little something to it. Hans [who provided the score for Dune] had things to say about the editing. I would record sound. The sound would come with the dialogue. Denis likes good ideas, but I'm getting into something that's already at such a level. He speaks to me as if I were an actor. He will identify a direction to take and let me find a way. It means you really own the edit, which is such a compliment.
Initially, Walker will cut temporary music, often using tracks from Zimmer. "It was a miracle to watch Hans but we were working hand in hand. He would give us a piece of music that wasn't necessarily meant for a stage, and then we'd find bits in it that were going to work for our story and place it. An example is when Paul is put to a death test by Charlotte Rampling's Reverend Mother." It was one of those finds where we heard a recording, it was meant for nothing, so I cut it. I sent it to Hans, he is rearranging this little section and we are starting to rebuild the cup. It's a great collaboration. »
This is the one that should continue with Dune: part two. "I am happy to follow Denis on Dune: part two and beyond," says Walker. "We are returning to Arrakis, hopefully this summer. I'm preparing for a quick turnaround; it's going to be a year to put the thing together. Dunes was 20 months, but the pandemic blew a big hole in that timeline.
"Dune: part two is going to be a very different movie," he adds. "We don't have to set up every faction in the universe. Many things are already done. »