Sci-fi disaster film "Moonfall", one of the most expensive independent films ever made, hit Chinese screens on Friday.
The film, co-written, directed and produced by Roland Emmerich and starring Halle Berry, Patrick Wilson, John Bradley, Michael Peña and Chinese actress Yu Wenwen, follows two former astronauts alongside a conspiracy theorist who uncover the hidden truth on Earth. moon as it tumbles catastrophically towards Earth.
Shot on a budget of $146 million in Montreal, Canada, "Moonfall" is one of the most expensive independent films ever made, giving Emmerich complete creative control. According to a report by Deadline, $40 million of its budget came from China's Huayi Brothers Media, which also distributes the film in China.
Emmerich said he was inspired to make the film after reading Christopher Knight and Alan Butler's novel "Who Built the Moon?" who debated the hollow moon conspiracy theory. "They said very provocatively that the moon is a constructed object, and they had very good arguments for that," Emmerich explained.
Although the director, who was responsible for many sci-fi disaster blockbusters such as "Independence Day", "The Day After Tomorrow" and "2012", didn't want to make disaster films anymore at first, he convinced himself to do "Moonfall" eventually.
"The movie is like a little space movie, and it's mostly set in space, which is new to me," Emmerich said. "It also shows the interior of the moon, which is always very exciting and cool. There's a real philosophical aspect to it, and it's my film that speaks the most about philosophy."
With approximately 1,700 visual effects shots for "Moonfall," the film is spectacular thanks to the creators' overflowing imagination, from the vast internal structure of the moon to the swarms of AI nanobots. A Florida museum provided an original space shuttle cockpit and NASA provided various data regarding the spacecraft.
Due to the COVID-19 pandemic, the film crew had to ramp up production and increase their budget. Among the restrictions of the pandemic was the lack of filming locations, forcing the construction of 135 different sets. Some actors also had problems joining the cast due to travel restrictions. Fortunately, Chinese actress Yu Wenwen was in Canada.
"It was really inconvenient for international travel, which would involve quarantine and many other things. Also, many of the actors hired were local Canadians, but I was there just in time," Yu said. .
Emmerich praised Yu, saying "she surprised me a lot because she always had great ideas and was very confident when I worked with her".
The director said making a movie now is always a huge challenge, and filmmakers have to keep pace as the visual effects of other films become much more sophisticated. "You have to compete with that. But it was also something we like to do. So there's a certain enthusiasm there. We haven't really invented new things. We just perfected them."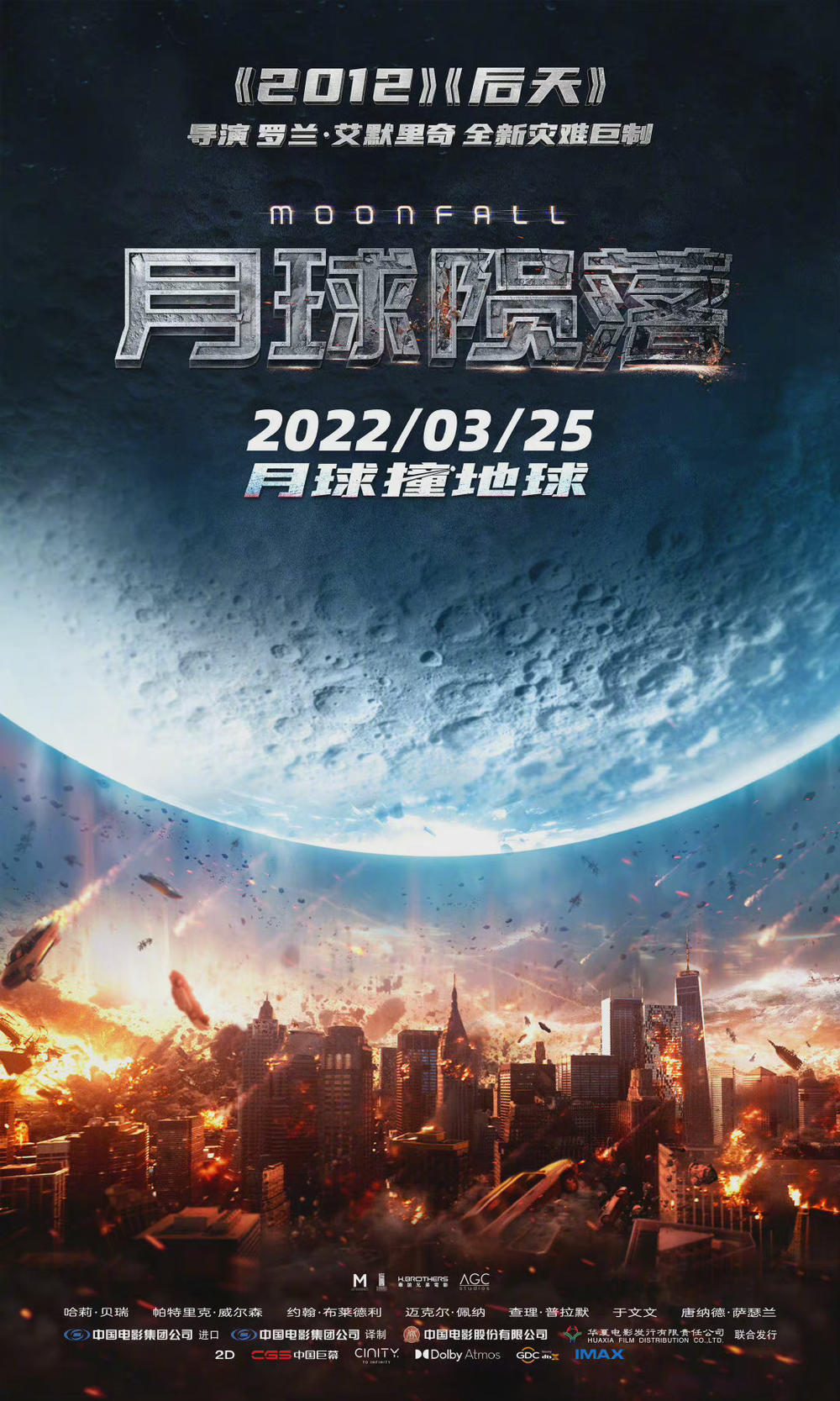 Emmerich thinks disaster movies may die out at some point, but people of different generations will always embrace them, and the stories are timeless. However, he has no plans for any more disaster films; "Moonfall" will be his encore. "Well, that's my last," he said, though the ending of "Moonfall" hints at sequels.
"This film inspired me that when we are in a moment to face life and death, something will abruptly change in our hearts, which we can never imagine until you are really at this point. When the time comes, you will find out what is most important in your life," Yu added.
The film was released in the United States on February 4, 2022, and also screened in many other markets in February ahead of the China opening. However, it underperformed at the box office, grossing just $41 million worldwide and receiving mixed reviews. He hoped to satisfy the Chinese public's still enthusiastic appetite for disaster films. Yet, sadly, the recent resurgence of COVID-19 in China has shut down more than half of Chinese cinemas across the country.